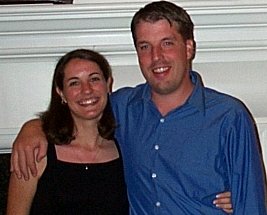 Thanks to everyone who attended our wedding!
ABOUT JULIE
Julie lives in Portland, CT and currently works as a research analyst for a medical equipment company. She grew up in Slingerlands, NY and went to school at William Smith College and Boston University.
ABOUT ERIC
Eric also lives in Portland (what a coincidence!), and works as an engineer for the State of CT. He grew up in Mansfield, CT, and went to school at UConn.
WHEN WE GOT ENGAGED
September 07, 2002
HOW IT HAPPENED
Eric surprised Julie with a weekend trip to Kiawah Island, SC. After a beautiful dinner, he proposed on the same beach where he first said "I love you," three years ago.